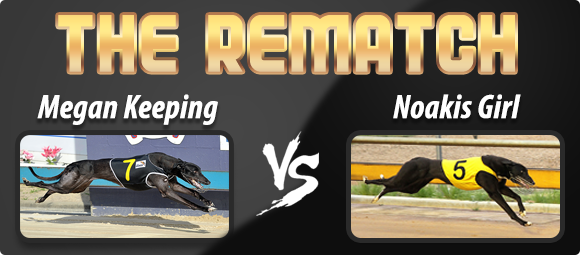 IT'S the sequel we've been waiting for.
Megan Keeping and Noakis Girl, the Race A Chaser bitches that have set the syndication alight, will go head-to-head for a second time this Wednesday over 390 metres at Ballarat.
Megan Keeping, the daughter of Cosmic Rumble and Indigo Gem, has drawn a favourable box number seven for Race 11 on the card, while Noakis Girl, the daughter of Big Daddy Cool and Noaki Pace, will start from her preferred box one. The winner will take home $1,325.
The last time the two met at Warrnambool late last year, the kennel mates worked against each other in the early going before eventually finished second and third behind Allen Terminator.
Coming into their second bout, co-trainer of the bitches, Kelly Bravo, believes one of her runners is a bit better-placed to take home bragging rights over the other.
"Megan is doing better at the moment and is well-placed in the number seven box, whereas Noakis Girl is on her first run back from injury," Bravo said.
"Megan missed the start at the Meadows in her last run and still put together a good race – we expect her to do well here."
Noakis Girl has had an interrupted preparation since returning from a spell.
"She had trouble with a muscle injury, so we gave her a spell, then in her comeback trial she hurt her wrist.
"We're confident she's ready to go and coming up against Megan is a great test for her first up."
If both bitches put in a good run, history tells Bravo that it could be a tight-run thing.
"There really isn't much between them over the distance," she said.
"Noaki has the advantage with the inside box, but the outside boxes can be ok in these shorter races too."
Race 11 at Ballarat, featuring Megan Keeping and Noakis Girl, is scheduled to start at 10.23pm.
For more information about buying shares and investing in a chaser of your own, contact syndicate manager Tatum Osborne Young on 0429 090 683.