The Greyhound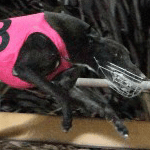 Flash was purchased for Race A Chaser Syndications at the Greyhound Racing Victoria (GRV) Ready 2 Race Auctions. The race series included the $35,500 Ready 2 Race Championship at Sandown Park in November 2015. The top eight prize money earners at the time of each of the bonus races were automatic entries in to the race.
Jaguara is a son of Milldean Panther and Flamingo Sands. Race A Chaser purchased him on the basis of his two trials during the R2R race series (see below) which demonstrated exceptional strength in the run to the line, suggesting potential for a middle distance or staying career. Flash's run home time of close to 12.50 was near best of day times; and he showed tremendous improvement in track sense between his heat and final trial. Being only 19 months of age at the time, we believed considerable improvement would occur through natural maturity and field experience.
Additionally, it was our expert opinion that the greyhound was running with injuries that could be fixed, and that he had much more ability than was being exposed. On examination that proved to be the case, with Flash suffering from significant muscle sprains in the left hind hip support and triangle muscles; and extreme pain in his neck, mid back and low back – which explained completely his inability to jump cleanly or quickly from the boxes. He was also suffering from radiating pain from nerve entrapment through his right shoulder and wrist.
Flash has since been examined and treated by leading Victorian greyhound vet Dr Barry Haywood who has treated the muscle injuries and performed spinal manipulation to rectify Flash's issues. It is our opinion that Flash would demonstrate far more stamina in his races now, and that it would have been very difficult for him to race with the problems he had.
Race A Chaser believe that Jaguara may prove to be a "diamond in the rough". He is not fashionably bred, he does not have superior damlines, he has not yet run times that would suggest he is capable of city class racing. But he has shown stamina superior to many greyhounds racing, he has shown he will compete in his races, and he has demonstrated some track sense in a half field. We consider Flash one of our more exciting greyhounds with the potential to become a very valuable greyhound if he can run the staying trip of 720m.
That early belief has since been confirmed with Jaguara scoring a devastating maiden win at just his second race start, running the second fastest run home time in history over Bendigo's 500m trip when winning by a huge margin.
The Syndicate
The official registered owner of Flash is the Race A Chaser Flash Syndicate. The syndicate is currently sold out.
Contact Race A Chaser About Racing With Us
| | |
| --- | --- |
| Race Name | Jaguara |
| Kennel Name | Flash |
| Sire | Milldean Panther |
| Dam | Flamingo Sands |
| Whelped | 27th April 2013 |
| Colour | Black |
| Sex | Dog |
| Record | 13st: 3-1-3 |
| Prizemoney | $8,165 |
| Trainer | |
| Status | Retired |
| Shares | Sold Out |
It is a requirement of all Race A Chaser syndicates that potential owners download, read, understand and sign the Product Disclosure Statement (PDS)
Race A Chaser Flash Syndicate Members
| | |
| --- | --- |
| Tatum Osborne Young | Syndicate Manager |
| Kevin Pitstock | Racing Manager |
| Maree McGuiness | |
| Sherrie Turner | |
| Martin Chinnery | |
The Sire
Milldean Panther is an Irish greyhound who has very few litters on the ground in Australia, but has already sired boom youngster Whittaker who has run 29.55 at Dapto. On the racetrack, Milldean Pather was considered the best greyhound of his time, winning his first 12 races in a row by big margins and setting the Shelbourne Park track record over 525 yards. His racing career ended prematurely due to injury and he was retired to stud.

The Dam
Flamingo Sands was averagely performed on the track winning at Geelong. She has one previous litter on the ground to Our Toyman that produced 5 winners from 6 greyhounds. Two littermates have raced from the Milldean Panther litter, with Bombora Storm trained by Darren McDonald recording a 26.54 maiden win from just three starts with a further placing.

The Grand Dam
My Nightingale was very well performed on the track winning 12 races from 70 starts with a further 25 placings and $37,235 in prize money. As a broodbitch, she has produced seven winners from 14 greyhounds across her two litters to Andy Palmer and Surf Lorian.

The Trials
Bendigo 425m R2R Heat 17/11/14
Bendigo 425m R2R Final 22/11/14
The Races
3rd Geelong 450m Maiden Heat 25.87 18/09/15
4th Geelong 450m Maiden Final 25.90 25/09/15
1st Bendigo 500m Vic Breeders Maiden Heat 28.19 02/10/15
3rd Bendigo 500m Vic Breeders Maiden Semi Final 27.95 09/10/15
5th Sandown Park 515m Vic Breeders 1-4 Win Heats 29.92 15/10/15
3rd Sandown Park 595m Grade 6/7 34.54 25/10/15
2nd Bendigo 660m Grade 7 37.89 30/10/15
1st Bendigo 660m 1-4 Win 38.38 06/11/15
1st Warrnambool 650m 1-6 Win 37.75 12/11/15
5th Geelong 680m GRV To City Heat 39.55 20/11/15
4th The Meadows 725m GRV To City Final 43.17 28/11/15
8th Sandown Park 515m Restricted Win Heat 29.30 18/02/16
8th Sandown Park 515m Restricted Win Heat 29.30 18/02/16
The Pedigree
Flash
Milldean Panther
College Causeway
Go Wild Teddy
College Tina
Auld Nag
Spiral Nikita
Slippy Dilemma
Flamingo Sands
Surf Lorian
Just The Best
Barrio Fiesta
My Nightingale
No Intent
Henry's Magic
The Race Form
| Place | Box | Track | Dist | Grade | Date | Odds | 1st/2nd | Pos | 1st Sect | Time | Weight | Margin |
| --- | --- | --- | --- | --- | --- | --- | --- | --- | --- | --- | --- | --- |
| 3rd | 3 | Geelong | 450m | Maiden Heat | 18/09/15 | $4.10 | Shake 'Em | 543 | 6.78 | 25.87 | 35.0 | 8.98 |
| 4th | 3 | Geelong | 450m | Maiden Final | 25/09/15 | $17.90 | Shake 'Em | 556 | 6.81 | 25.90 | 35.0 | 8.89 |
| 1st | 1 | Bendigo | 500m | VBIS Maiden Heat | 02/10/15 | $3.20 | Baltic Valhalla | 311 | 6.85 | 28.19 | 34.5 | 8.06 |
| 3rd | 4 | Bendigo | 500m | VBIS Maiden Semi Final | 09/10/15 | $4.80 | Carbon Racer | 776 | 7.03 | 27.95 | 34.4 | 11.79 |
| 5th | 8 | Sandown Park | 515m | VBIS 1-4 Win Heats | 15/10/15 | $3.20 | Bella Rico | 6776 | 5.26 | 29.92 | 34.3 | 12.50 |
| 3rd | 2 | Sandown Park | 595m | Grade 6/7 | 25/10/15 | $3.50 | Coffee Elizabeth | 4433 | 9.49 | 34.54 | 34.3 | 2.40 |
| 2nd | 2 | Bendigo | 660m | Grade 7 | 30/10/15 | $1.70 | Flying Kayla | 432 | 15.44 | 37.89 | 34.4 | 5.24 |
| 1st | 1 | Bendigo | 660m | 1-4 Win | 06/10/15 | $2.20 | By The Gallon | 331 | 15.27 | 38.45 | 34.5 | 1.11 |
| 1st | 8 | Warrnambool | 650m | 1-6 Win | 12/10/15 | $4.70 | Jayco Bale | 3333 | 17.74 | 37.75 | 34.3 | 1.90 |
| 5th | 3 | Geelong | 680m | GRV To City Heat | 20/11/15 | $2.40 | Reichenbach | 556 | 19.13 | 39.56 | 34.5 | 6.75 |
| 4th | 7 | The Meadows | 725mm | GRV To City Final | 28/11/15 | $4.80 | Bells Are Ringin | 6554 | 5.23 | 43.17 | 34.5 | 11.51 |
| 8th | 5 | Sandown Park | 515m | Restricted Win Heat | 18/02/16 | $16.10 | Allen Portland | 8778 | 5.30 | 29.30 | 34.5 | 14.61 |
| 8th | 4 | Cannington | 600m | 4th/5th Grade | 28/04/16 | $12.50 | Sweet Intention | 87888 | 10.47 | 35.33 | 34.0 | 25.5 |
The Photos