First Impact, better known to the Race A Chaser Impact Syndicate as India, is all set to make complete a miraculous return to racing this Sunday by taking her place in a 450m maiden race at Warrnambool.
Off the scene for over 13 months after fracturing a hock at just her third start at Sandown Park back on 2nd May 2010, the courageous blue bitch has been entered for her first race since the accident and has been drawn in box 3.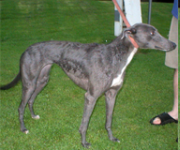 Making her comeback in a 450m race, all eyes will be on the daughter of Black Enforcer x Wiedersehen in the hope she can return to racing in style and get around the Warrnambool one turn track safely.
A long and determined plan to give India the chance to race again, dared to come to fruition when after nine long months on the 10th February 2011, India was returned to the track for a trial behind the lure over 80m up the home straight at Warrnambool.
Although India had been allowed to free gallop to stress her hock during her recovery, this first trial would give us the indication of just how far she might progress.
It's obvious now that she successfully completed that first trial back, but also showed more than enough speed to encourage the syndicate to dare to dream.
After a few more handslips and a few necessary breaks to get over injuries and allow the hock to settle back in to racing, India had her first trial from the boxes over 390m on 9th June 2011.
Not only did she complete the trial well but she gave enough indications she would not only make the comeback to racing, but also be competitive.
Still on the improve fitness wise, India will carry the hopes of a huge team in the Impact syndicate on Sunday afternoon in Race 4 at 1:59pm.
Across Australia India's lucky owners will all have their undivided attention brought to bare on the diminutive 26kg blue bitch whose heart is unquestionable, and whose owner's dared to dream.